Aluminum Dock Plate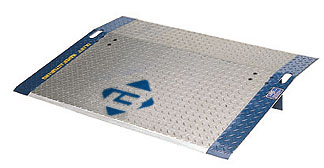 Dock Plates are rectangles of steel or aluminum with some type of locking leg and either hand hole or handles to move them. Plates are NEVER for power equipment. They are ideal for handtruck and pallet jack traffic … manually moved. They offer the lightest and most cost effective answer to your loading / unloading problem.
The aluminum dock plates below are manufactured and tested in compliance with ANSI Standard MH30.2.
Aluminum Dock Plate (A-B)
Recommended for nonpowered dock loading applications
Low-cost solution to light dock loading activity applications
Bolt-on steel legs for securing position between the dock and the trailer
Manufactured and Tested in Compliance with ANSI Standard MH30.2
Aluminum Dock Plates offer a low-cost solution to bridging the gap between trucks, trailers and your loading dock.
Spring Loaded Aluminum Dock Plate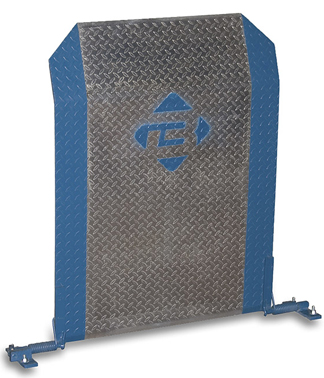 A Spring Loaded Dock Plate (SL Plate) solves a problem in some common situations. Many times a dock services the exact same truck or type of trucks several times per shift. If the loads are loaded or unloaded by handtruck, dollie or other manual methods the SL plate may be the answer.
The aluminum dock plate is fitted with a pair of spring loaded attachments that fix it in place to the dock floor. These springs allow the dock plate to be quickly and safely lowered into place for use. When finished the dock plate is lifted, aided by the springs, into it's vertical storage position ready for the next truck. It is mounted top of dock so there is no major installation process. Most customers have the personnel and tools to do the job.
Diamond deck aluminum plate assures a non skid surface but can be further enhanced with optional 3M strips of adhesive grit material. Each Spring Loaded Dock Plate by Bluff is built for the exact location and equipment serviced in the application. Contact Us to get the process started.
Aluminum Ramps for Cylinders
Bluff's AWL and AWC Aluminum Plates are specially designed for the safe transport and distribution of industrial, medical and specialty gases. Unique to Bluff, the AWL and AWC plates are made of 3/8" aluminum diamond plate. These plates are light enough to be easily maneuvered by hand yet strong enough to accommodate capacities of up to 4,720 lbs.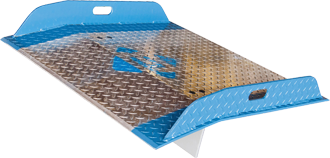 In the gas cylinder distribution process, steel cylinder pallets are used to hold both filled and depleted cylinders. These pallets are typically three inches off the ground and present a logistical challenge in the manual removal of the cylinders. The heavy cylinders are individually and manually rolled off the pallet onto the dock or warehouse floor, without the use of a hand truck. Many distributors simply roll the cylinders off the three-inch height differential, ignoring the continuous potential for damage to the cylinder or dock/warehouse concrete floor with repeated cylinder impact. Additionally, there is a very real danger of losing control of the weighty cylinder during the drop resulting in potentially significant personnel injury and property damage.
When Bluff's AWL and AWC plates are used as ramps for the gas cylinders, they prevent damage to the cylinder, while minimizing the risk of personnel injury and property damage. Manufactured and tested in compliance with ANSI standard MH30.2, our plates provides a smooth transition surface for manually maneuvering the cylinders in a fully controlled manner.
Options for Dock Plates
Ez-Roll Handles
One person positioning of a dock plate without the use of a forklift
Telescoping/self-storing handles
Lifting Chains
Allows for use of a forklift in dock plate placement